Newsletter
Enter your email address below to stay informed about Morticians...
The new album is recorded, finally! Introducing... Voidwalker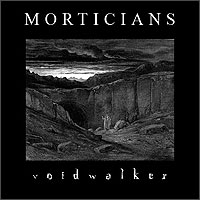 Five years have passed since our last album was released. We hope you agree that it has been worth the wait and enjoy the new songs.
2009 - An (old) new Morticians...
Marie Hagelqvist replaces Jonas and will be performing both backing vocals and drum pads. You might recognize the name. She has been part of the synthpop side project Eternity Range (which at one point was called "Morticians") since 2000. Morticians is not in any way going pop though, the sound will remain hard and industrial.
2009 - Morticians shop opens!
You can now buy our songs as high quality mp3s right here on our website! Just click here to get started.
2007 - Jonas leaves the band
Jonas, who took over after Stefan when Morticians was reformed in 2005, decided to grow up and start a family instead of playing hard industrial music. Andreas, the song writer and lead vocalist of Morticians, kept working on the follow up to Mutilation Recreation.
2006 - Plutonium Showcase v.2
Morticians was included on a compilation from Plutonium Distribution with a new track called Overlords. This CD can be bought from their website: http://www.plutonium-distro.com
2005 - The corpse is moving!
Thanks to Christoffer Gunnarsson and his label Plutonium Distribution the first demo of the band was restored, remixed and turned into a complete full 2CD and the original Morticians, the way the band sounded back in 1991, was reformed. The original members met up for a short time to work on this project together and also to do one last live gig. After that Jonas Rimheden, cousin of Andreas and lead singer of the side project Nervkållaps, replaced Stefan and the corpse kept moving.

If you wish to get in contact with Morticians you can reach them by email: corpse at morticiansmusic.net or visit us at MySpace: http://www.myspace.com/morticians